INTERSOS Hellas is a non-governmental organization that operates in Greece with the aim to provide equal opportunities and long term, durable solutions to people in need. We are a member of the INTERSOS family which has been active since 1992 and is located in 20 countries around the world.
People Benefited from Services
Participants in Educational and Integrational Activities
Only 26 hours of military spending is enough for something so big INTERSOS and more than 200 non-governmental organizations are actively participating in the universal call of the ICVA (International Council of Voluntary Agencies) to all the leaders of the world for a...
read more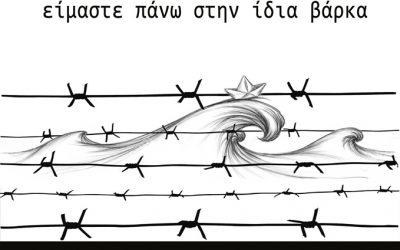 Politheatro in collaboration with INTERSOS, presents the theatrical play titled "مهاجرین we are on the same boat". The play is based on the work of Matei Visniec "Refugeees... or we are too many on this fucking boat" . With expert direction from Thodoris Gogos, the...
read more
Cooking #WithRefugees brings Greek and refugee chefs together for World Refugee Day To mark World Refugee Day, Greek chefs and refugee cooks will team up between 18 and 22 June to serve their favourite dishes and fixed menus in selected restaurants in Athens,...
read more
Human rights is not just a concept, they apply in every moment of our lives. From birth until death, each one of us with no exception has the right to live with dignity. Human rights is our shared values, equality, fairness, freedom and independence. Human rights...
read more
INTERSOS in collaboration with the Research Centre for Gender Equality co organized an event for the International Day for the Elimination of Violence against Women. The Event took place on Friday, 23 of November 2018, at the Community Centre "Mikri Polis".  The event...
read more
INTERSOS Hellas participates in the most important exhibition in Greece and exchanges ideas and suggestions for new, innovative initiatives with visitors from the 83rd TIF. At the same time, it implements an information campaign on human rights and the rights of...
read more